Custom metal screen supplier shows you the types of wire mesh.
1. Tainless steel plain weave cloth: it is characterized by acid resistance, alkali resistance, high temperature resistance, abrasion resistance and tensile resistance, so it is widely used in the screening and filtration of petroleum, chemical fiber, rubber, tire manufacturing, metallurgy, medicine, food and other industries.Stainless steel plain, twill, contrast mat mesh to 2800 mesh, material has 302, 304, 304L, 316, 316L, 310, 340, from 0.02mm to 8mm, width up to 6 meters.
2, Wedge wire media retention filter nozzle : plain weave, or oblique woven, used in rubber, plastics, petroleum, chemical industry, food industry such as sieving and filtering, the material is high quality low carbon steel Wire, give priority to with Q195, square hole mesh number from 2 yard to 80 yard, and Wire diameter from 2.03 mm - o. 14 mm.Specification: 12x64xxo.023/0.0165[0.584 xo.419] 14x88xo.020/0.014 [0.508 xo.355] 24x110xo.014/0.011 [0.355 xo.254] 30x150x0.009/0.007 [0.228 xo.178] 40x200xo.005/0.0055 [0.178 xo.139]50 x250xo. 0055/0.0045 [XO 0.139. 114] 50 x280xo. 0055/0.004 [0.139 XO. 101]
3, copper mesh: brass mesh, copper mesh, phosphor copper mesh, with anti-corrosion characteristics, plain or oblique woven, used for a variety of particle powder, porcelain clay and glassware printing filter liquid, gas, etc.Brass mesh: 1-200 mesh, line orange grade: H96, H90, H85, H80, H70, H68, H65, H63, H62, H59;Red copper mesh: 1-60 mesh, wire brand [pure copper] : T1 - T3;Phosphor copper mesh 1-400 mesh, wire brand: qsn6.5-0.1,
QSN7.2-1.2.
4, hexagonal mesh: made of hexagonal mesh machined, with precise structure, uniform mesh holes, good corrosion resistance, durable and other characteristics.There are twist, twist, two-way twist, first braid after plating, plating after knitting.Used for building, petroleum, chemical industry, breeding, garden protection, food processing industry reinforcement protection and insulation, such as manufacturing cage, stone cage, isolation net wall, boiler cover, poultry fence, such as materials such as low carbon steel [distribution galvanizing and hot dip galvanizing, coated plastic, PVC coating, etc.].Color [green, white, gray, etc.]Paint, stainless steel, specification: 1/2 inch 1 2 inches, wire diameter :0.61-1.22 mm, mesh width: 0.914 m, 1 m, 1.5 m, 2 m.
5, electric welding network: electric welding network is made of high quality low carbon wire row welding, and then cold plating [electroplating] hot plating, PVC bag surface passivation, plasticizing treatment.The net surface is smooth, the mesh is even, the welding joint is firm, the local machining performance is good, stable, anticorrosion, corrosion resistance is good.Electric welding net is widely used in industry, agriculture, breeding, construction, transportation, mining and other aspects, such as machine protective cover, poultry fence, flower fence, window fence, access fence, egg basket and home office food basket paper basket decoration.
6, plate net: in the punch press with the mold stamping or with scissors refitted, in the knife edge on the cutting mold can also be made into plate net, can be divided into aluminum plate net, aluminum magnesium alloy plate, copper plate net, nickel plate net, steel plate net.Plate thickness of 0.5mm - 8mm, mesh shape diamond, square, round hole, triangle, fish scale hole, durable, beautiful generous, widely used in roads, railways, civil buildings, water conservancy and other construction, various machinery, electrical appliances, window protection and aquaculture.
7, punch net, punch on the press, there are round hole net (machine screen net) long hole 4 square hole, fish scale hole, nail hole.Its performance bending resistance, anti - aging, not easy to rust, net surface formation, smooth, durable, beautiful.It has a wide range of USES.It is used for filtering internal combustion engine, mining, medicine, grain sample screening, indoor sound insulation, chassis panel, audio panel and various ventilation equipment.Materials: low carbon steel plate, stainless steel plate, aluminum plate, aluminum magnesium alloy plate, copper plate.Coil thickness 0.2mm to 0.8mm, mesh 6-3mm;Plate 0.5 mm -3 mm, mesh 1-5 mm;Stainless steel plate 0.5 mm -2 mm, mesh 1- 5 mm: aluminum plate 0.5 mm -2 mm, mesh 1-4 mm.
8, nickel mesh: by plain, twill, bamboo flowers woven, its characteristics are high temperature [1000 degrees] acid resistance, alkali resistance, mainly used in the electric (caustic soda chemical industry and other industries.Specification: plain weave, twill 60xo.12.80xo.10.100xo.09, 140xo.07.160xo.065.180xo.06, 200xo.05.Sheet type 【 miromesh 】 12x68/0.55 xo.42 12x78/0.45 xo.35 20x0.30xo.19 20x120/0.30 xo.32.
9, window screening, woven into 1 [locking edge], 2 [rotary edge]. Divided into: enamel window screening, galvanized window screening, aluminum spray window screening, aluminum window screening, plastic window screening, glass fiber window screening, stainless steel window screening, plastic window screening, characterized by light weight, good toughness, corrosion resistance, good ventilation, easy to clean.Materials: low carbon steel wire, stainless steel wire, chemical fiber, aluminum and magnesium alloy wire, galvanized wire, pVc wire, purpose;Used for mosquito protection in hotels, public buildings and residential buildings. Specification: 10XIO, 12Xl2, 14X14, 16X16 18X18, 20X20, 24X24, 14x16.16x14.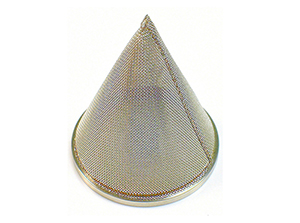 Wire Mesh Filter Strainer