Product Name:
Pleated sintered mesh filter
Material: stainless steel, some special alloys are also available.
Filtration rate: 0.2 microns to 500 microns.
Length: 3.9" to 59".
Outer diameter: 1.378" to 3.15".
Working temperature: -200 °C to 600 °C.
Cleaning: ultrasonic cleaning, high temperature baking, cleaning agent.
Packing: wooden case or export case, generally wrapped in plastic bag separately first.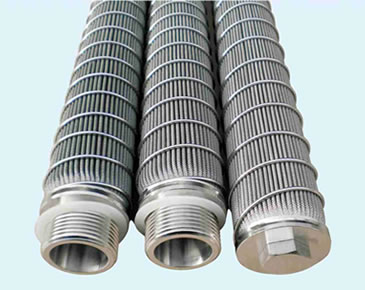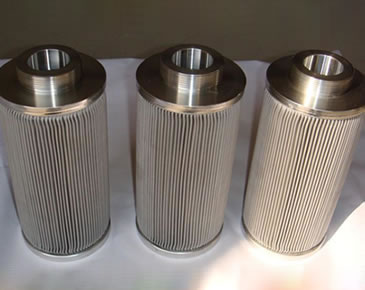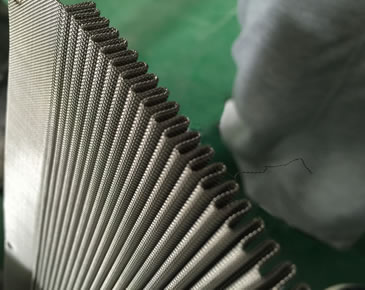 Pleated sintered mesh filters are made of stainless steel wire mesh, or sintered metal fiber felts, which are sintered at each wire intersaction points to produce strong surface-sieving porous filter cylinders. Moreover, the pleated design can further provides larger filter area, good dirt holding capacity. Double open-ended or single open-ended filter cartridges are available as per customers' needs. Threaded ends are often equipped with gaskets, like o-ring, to reduce the friction of the corrugated filter. Unlike unsintered mesh, pleated sintered mesh filter enables the use of finer wires to produce more pores per unit area for higher contaminant loading capacity. On the other hand, pleated sintered filter cartridge is more preferred to replace the PP filter cartridge with its back washing and reusability advantage, in applications of corrosive liquid filtration, oxidizing liquid filtration, liquid and gas filtration, etc.
Application:
Sintered pleated filter cylinder is widely used for filtration of gas-liquid, high molecular polymer, hydraulic oil, in the following industries:
· Mining industry.
· Textile industry.
· Food industry.
· Chemical and pharmacy industry.
· Automotive industry.
· Insulation industry.
Feature:
· Pleated design for high dirt holding capacity.
· All stainless steel construction for corrosion resistance.
· High strength and stability, resistant to high pressure and harsh operating conditions.
· Various filtration rating for different design requirements.
· Easy to backwash, it prolongs service life.