Custom screen mesh manufacturer to share with you: With the rapid development and optimization of the screen industry, there are more and more varieties and specifications of screen products. The previous classification has fallen behind its development and application. According to China Search Wire Mesh, in response to this situation, Anping County has reclassified wire mesh products according to the process in order to keep the wire mesh classification standards in line with the development of the wire mesh industry. After investigation and careful integration, Nets are divided into six categories:

1. Drawing, mainly drawn from various metal and non-metallic wires into various filaments and monofilaments, is the raw material for making various screens, and can also be directly used for binding and reinforcement after surface treatment or annealing. The diameter of the drawn microfilament can reach 0.018 mm, which is only a quarter of the diameter of the hair.
2. Weaving, which is mainly woven from various types of metal wire, non-metal wire and other materials. The main processes are plain weave, twill weave, bamboo flower weaving, contrast weaving, and knitting. The main products include: stainless steel mesh, wire baskets, copper mesh, alloy mesh, rare metal mesh, chemical fiber mesh, etc. According to the weaving form, it can be divided into hexagonal net, crimped net, gabion net, chain link net, bullpen net, flexible protective net, conveyor belt net, safety net, fishing net, vapor-liquid filter net, air-conditioning net, pony tail interlining, Horsetail sieves, etc., are mainly used for screening, separation, filtration, protection, reinforcement, etc. The highest weaving target can reach more than 3000 mesh.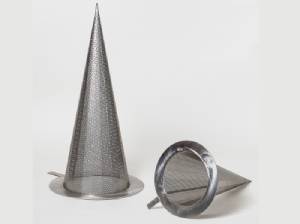 Cone Shaped Wire Mesh Filter Strainer
3. Welding; welded by various metal wires through spot welding, row welding, argon arc welding, etc. The main products: fence nets, welded wire meshes, steel grids, steel welded meshes, fence meshes, mine screens, etc. , Mainly used in construction, transportation, mining, breeding and other industries.
4. Punching and drawing, which are mainly made of various metal and non-metallic plates through punching and stamping. The main products are steel mesh, aluminum mesh, nylon screen, etc., which are mainly used for construction, decoration, protection, and fine filtration.
5. Non-wovens, made of metal and non-metal materials through spray melting, sintering, extrusion, and compounding. The main products include plastic flat mesh, sintered mesh, filter paper, stainless steel fiber felt, geogrid, geotextile, etc. Used for filtration and separation, reinforcement and protection, and various breeding.
6. Products, which are deeply processed by various wire meshes, mainly including cone shaped wire mesh filter strainer, filter assemblies, decorative nets, wire mesh crafts, wire mesh furniture, etc., mainly used For liquid, gas, solid filtration and screening, building decoration and home life.