Wire baskets were mainly used for the movement of slow infantry and vehicles in the war years. Fixed barbed wire is constructed with barbed wooden stakes and iron wires. Mobile barbed wire is shipped from the factory to the battlefield for temporary installation. It is 70-90 cm in diameter and about 10 meters long. The destruction intensity is high, which can slow down the movement of vehicles such as armored cars. When people mention barbed wire, people usually think of special scenes such as battlefields, prisons, and border lines. Indeed, once barbed wire was invented, it was widely used in military and defensive projects; nowadays, barbed wire is also widely used in peaceful times. Wire screen supplier introduces you:
A famous economist believes that barbed wire is "one of the seven patents that changed the face of the world." It played a role in clarifying property rights in the development of the western frontier of the United States. It is with this barbed wire that ranchers can distinguish their own pasture from others' pastures. Because barbed wire is easy to produce, simple to install, and cheap, it can effectively isolate livestock and reduce the probability of personal property theft. Today, on the grasslands of Australia, one can still see the barbed wire left by the colonists when they came here to open up land more than 100 years ago.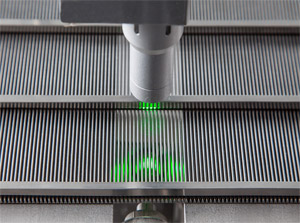 Wedge Wire Screen Flat Panels
When it comes to barbed wire, people often think of terrible live barbed wire such as battlefields, prisons, high walls that cannot be seen, barbed wire, borders, etc. Everyone may remember Schindler's list, Auschwitz concentration camp, slag cave concentration camp, The barbed wire is a tool for terror and freedom. Indeed, once barbed wire was invented in history, it has been widely used in military and defense engineering. Nowadays, in times of peace, barbed wire is not only used in machinery, electronics, pharmaceuticals, petrochemicals, glass, food drying, plastics, papermaking fiber, picture tubes, etc Various industries, and barbed wire is also widely used in all aspects of agriculture and life. Barbed wire has recently been applied to rock planting. On the rock slope, a new technique of barbed wire dusting and grass planting is adopted to achieve slope protection and at the same time it has the effect of beautifying the environment.
Barbed wire use: mostly used in coal mines, mines, construction, breeding, glass factories, petroleum, hardware products, petrochemicals, construction machinery, protective nets, barbecue nets, craft nets, food machinery nets, cooker nets, walls It can also be used for the classification and screening of solid materials, the filtration of liquids and muds, etc. Weaving and characteristics: first rolling and then knitting, two-way wave isolation bending, lock bending, flat top bending, two-way bending, and one-way wave isolation bending, the structure is sturdy.
The production process of barbed wire is divided into: braided, spot-welded, cut-and-pulled, stamped, wrapped, twisted, anchored, etc. collectively referred to as barbed wire or wire mesh.
Barbed wire has further developed and expanded, with today's many types such as: fence nets, protective nets, crimped nets, woven nets, chain link nets, wedge wire screen flat panels, welded wire mesh, reinforced welded wire mesh, wire Welded wire mesh, iron wire embossed wire mesh, iron wire fence mesh; mesh sheet, etc.
Related products of barbed wire: Barbed wire for flood and flood prevention: gabion net, gabion net, wall plaster net, lead wire cage, honeycomb grid, ecological grid, ecological net cage, pavement reinforced net, port engineering net, retaining wall, Green grid, heavy hexagon. Barbed wire for traffic safety protection: highway fence net, highway fence net, airport fence net, railway fence net, bridge fence net, factory fence, stadium fence, workshop warehouse fence, construction site fence net, community fence net. Barbed wire for aquaculture: Dutch net, chain link net, diamond net. Barbed wire for coal mines: underground metal nets, coal mine warp and weft nets, coal mine meshes, coal mine safety nets, coal mine support nets, coal mine safety support nets, mine nets, mine wire nets, coal mine wire nets, coal mine braided wire nets, and coal mine flat woven nets.
Welded wire mesh, welded wire mesh is a kind of high-quality Q195 low-carbon steel wire welded, and then cold-plated (plating), hot-plating, PVC coating and other surface passivation, plasticizing treatment, smooth surface, net Mesh mesh products with uniform mesh, firm solder joints, good local machinability, stability, corrosion resistance and corrosion resistance. Galvanizing (electroplating or hot plating) is performed after the welded mesh sheet is formed; the product is made of high-quality galvanized iron wire and welded by precise automated machinery. It has the characteristics of firm solder joints, reasonable structure, uniform mesh, etc., the surface of the net is flat, the structure is strong, the integrity is strong, and it has strong corrosion resistance. It can also be used for floor heating in the construction industry.