Wire screen supplier to share with you: To choose wire screen products, we must first understand that stainless steel wire screen products are mainly distinguished and distinguished from three categories, namely wire diameter, mesh and length and width. Therefore, customers must have a starting understanding of the three goals of the product. Since there are more and more manufacturers of stainless steel wire mesh processing, it is difficult to ensure the quality of the product due to the large number of production.
Some bad factories sometimes cut corners and get illegal benefits. So let's brighten our eyes and learn more about the relevant silk screen knowledge, so that we can choose the real products. Stainless steel is a kind of high-strength anti-stainless steel. It is mainly used for harsh working conditions such as impact, kneading, and material wear.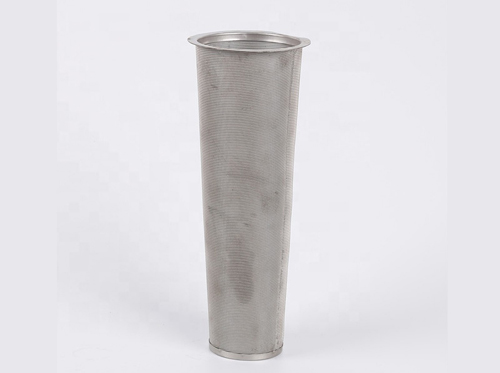 Cone Shaped Stainless Steel Mesh Sieve
The main damage methods are wear and tear, and some are cracked and deformed. There are three types of wear: the frictional wear of metal components touching and moving against each other; the abrasive wear of other metal or non-metallic materials impacting the metal surface and the erosion wear caused by the contact of active gas or liquid and metal. The wear resistance of wear-resistant steel depends on the material itself.
Anti-wear steels show different wear resistance under different working conditions. Both the material itself and the working conditions determine its abrasion resistance. Stainless steel wire mesh is a kind of screen developed by making full use of the abrasion resistance of stainless steel. It has outstanding abrasion resistance under certain industrial mines and is incomparable with other raw material screens.
Tips on stainless steel filter cleaning:
The stainless steel passivation film's corrosion-resistant screen looks thin. Due to the wear of the impact echo, gaps occur, which increases the chloride ion approach, forming a fierce corrosive solution, which accelerates the rate of corrosion response.
Therefore, the appearance of the stainless steel wire mesh strainer basket requires regular cleaning and protection in order to maintain a neat appearance and extend the service life. When cleaning the stainless steel screen, it is necessary to pay attention not to damage the cut surface, avoid the use of bleaching ingredients and abrasive washing liquid, steel balls, remove the cleaning liquid, and flush with clean water at the end of the cleaning.
The cone shaped stainless steel mesh sieve is dust. Simple shovel removes surface dirt and can be washed with soap or warm water. Stainless steel filters, labels, stickers, wash with warm water, weak detergent, adhesive ingredients, use alcohol organic solvents (ether, benzene) to scrub. The grease, oil, and lubricating oil of the stainless steel screen is contaminated. Wipe clean with a soft cloth, and then clean it with a neutral detergent or ammonia solution or use a special cleaning agent. The appearance of the stainless steel wire mesh with bleach and various acids was immediately washed with water, and then soaked with ammonia solution or neutral carbonated soda solution, or washed with warm neutral detergent.
The appearance of stainless steel screens is caused by excessive use of detergents or oils. Neutral detergents can be washed with warm water. Stainless steel screen appearance of dust, rust can be washed with 10% nitric acid or abrasive cleaners, can also be cleaned with special washing drugs.