Multi-layer sintered mesh is a new type of filter material with high mechanical strength and overall rigid structure. Its each layer screen mesh crisscross each other, forming a homogenous and ideal filter structure, not only overcome the common low strength, poor rigidity metal screen, mesh shape is not stable, but also on the material of the pore size, permeability and strength characteristics to design reasonable matching and making it has excellent filtration precision, filtration resistance, mechanical strength, wear resistance, heat resistance and processability, comprehensive performance is better than sintered metal powders, ceramics, fibers, filter cloth, filter paper and other types of filtering material.
Five-layer sintered mesh is the most widely used standard structure sintering network. Generally, it is a five-layer structure, divided into five parts: protective layer, filter control layer, dispersion layer, supporting skeleton layer and skeleton layer. Filter material filtering accuracy uniform and stable, high mechanical strength and compressive strength; The requirement of compressive strength and uniform filtration particle size are the ideal choice of filter material. The filtration mechanism is surface filtration, and the mesh is smooth, so it has excellent backwash regeneration performance and can be reused for a long time, especially suitable for continuous automatic operation process, which is incomparable to any kind of filter material. The sintered mesh material is easy to form, process and weld, and can be processed into a variety of filter elements such as circular, cylindrical, conical and corrugated.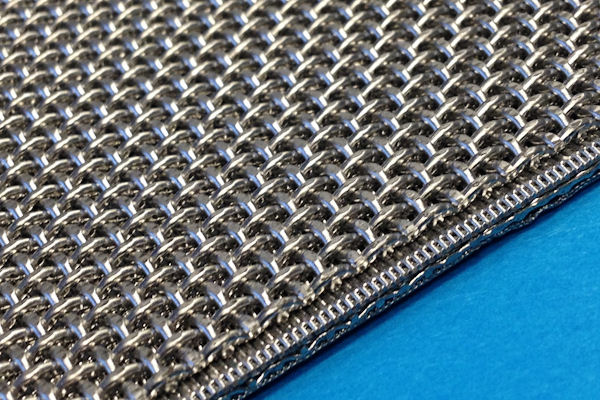 Five Layer Sintered Mesh
Characteristics of sintered mesh:
1. High strength, good rigidity: high mechanical strength and compressive strength, good processing, welding and assembly performance, easy to use.
2. Accuracy of the uniform, stable: uniform filtration performance can be achieved for all filtration accuracy, and the mesh does not change in use.
3. Widely used environment: it can be used for filtration of -200℃~600℃ temperature environment and acid-base environment.
4. Excellent cleaning performance: counter-flow cleaning effect is good, can be repeated use, long life (can be used counter-flow water, filtrate, ultrasonic, melting, baking and other cleaning methods).
Sintered mesh cone filter is made from stainless steel sintered wire mesh with precise cutting and welding, in which rolling seam welding process is used to ensure roundness and flatness. As a result of cone shape, sintered cone filter gets better diversion, separation as well as filtration. The bottom of the stainless steel sintered mesh cone filter can be flat or pointed as per customers' need. Whichever shape is with high dirt capacity, widely used for three in one filtration (filtering, washing, drying) in the industries of chemistry, food processing, beverage, pharmacy, etc. Features of sintered mesh cone filter: ultrasonic welding process, made of single-layer or multi-layer metal mesh, even and firm welding seam filtration accuracy is the absolute value, the product with high heart rate, under great pressure, good straightness, stainless steel material, no burr, ensure long service life.
Sintered mesh filter cartridge is a kind of new filter material which is composed of multi-layer metal sintered mesh, which is made of multi-layer stainless steel mesh, which is pressed by special lamination and sintered by vacuum. The main difference between the sintered mesh filter cartridge and other filter elements is that a large number of high-precision welding processes are used. The sintered mesh is welded on the end cover of both ends through stainless steel wire. The sintered mesh cannot be burnt out in the welding process, so as to prevent partial burn out, thus making the filter core unable to filter. Therefore, argon gas protection must be carried out in the welding environment during the welding process. In the welding process, all must have welding tools and special welding equipment, and the welding technology requirements for workers are also relatively strict. In case of air leakage in the bubble test after welding within the pressure range, all the filter elements will be scrapped.