In the next five years, the Wedge Wire Screen market revenue will grow at a compound annual growth rate of 2.6%. By 2024, the global market will grow from US$665.2 million in 2019 to US$737 million.
By 2027, the global wedge wire screen market is expected to grow from US$682.5 million in 2019 to US$812.3 million. During the forecast period from 2020 to 2027, the compound annual growth rate will be 2.58%.
The wedge wire screen is a multi-function screen that provides a high level of wear resistance in corrosive and abrasive mineral processing applications. These screens can be used for various applications, such as filtration, solid-liquid separation, dehydration, concentration, etc. Wedge-shaped screens can be widely used in various shapes, such as tubes, cylinders and screens on the market.
The increasing use of wedge wire mesh in various end-user industries is one of the key factors driving market growth. Some key end-use industries of wedge wire screens are the brewery and nuclear power plant industries. Wedge screens are commonly used to filter crushed grains in fermentation broth during beer brewing. In addition, due to its excellent filtering accuracy, high structural strength and smooth backwashing performance, the use of wedge screens as structural filtering materials in nuclear power plants is also increasing. However, the high cost and high maintenance of the wedge wire mesh may hinder market growth during the forecast period.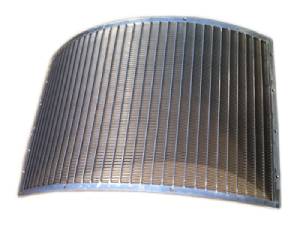 Wedge Wire Screen
This study conducted a comprehensive analysis of types, applications, sales channels, and regions. Type sections include flat screens, cylindrical screens, basket screens, and screen plate curved screens. Due to its heavy use in heavy-duty filtration and screening in mines, coal, minerals, and other applications, cylindrical screening machines dominate the market and account for the highest market share of 34.06% in 2019. Its diameter is larger than other types of wedge wire mesh. Therefore, it can be used for larger machines and higher load capacity. Applications include water treatment, food and beverage, pulp and paper, mining and minerals, chemical and petrochemical, biogas production, and livestock and poultry manure treatment. The water treatment market has the largest market share, with a market value of US$213.6 million in 2019, due to increased usage of wedge screens in water treatment plants and water quality improvement facilities. The sales channels are subdivided into direct channels and distribution channels. Due to increased distribution and sales of wedge wire mesh through distributors (for example, distributors and retailers), the distribution channel segment is expected to grow at the highest CAGR of 2.62% during the forecast period.
The market has been divided into North America, Europe, Asia Pacific, Middle East and Africa, and South America. The Asia-Pacific region dominates the global wedge wire screen and has the highest market share of 48.56% in 2019. Wedge wire screens are increasingly used in water treatment, beer industry, and wastewater, raw water, and various other industrial management. The application has driven the growth of the market in the region. In addition, the presence of outstanding participants in countries such as China and India has further promoted the growth of the wedge wire screen market.
We are a Dip Tube Mesh Filter manufacturer, if you have any demand for our products, please feel free to contact us.